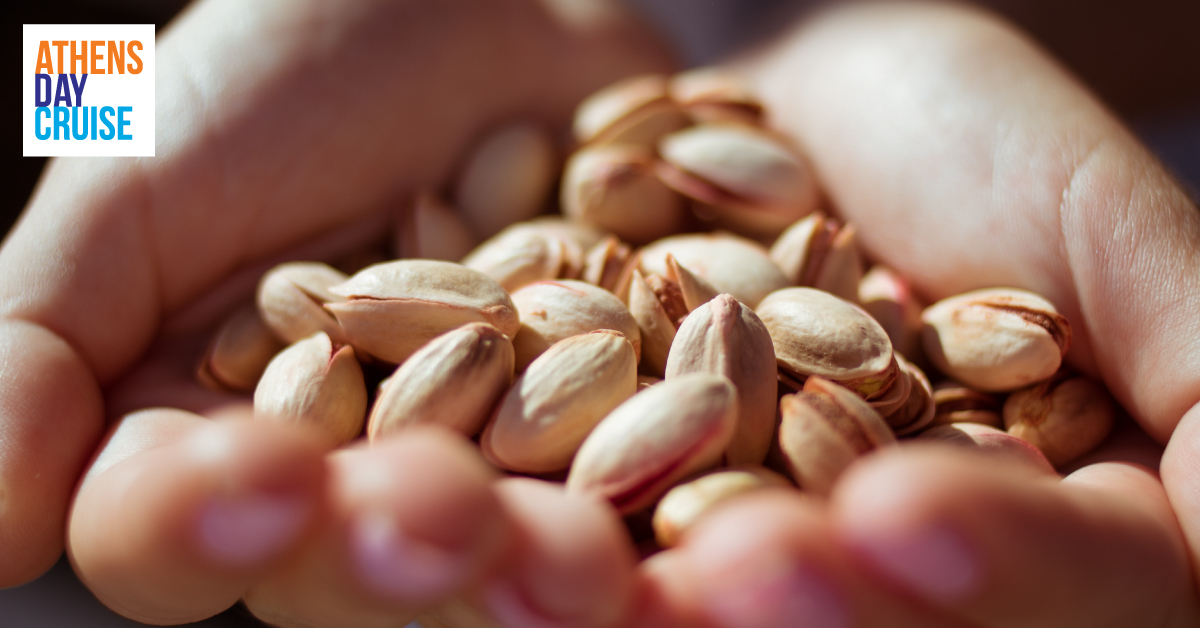 Aegina
Aegina's pistachios are incredibly popular. In fact, they're said to be some of the best pistachios in the world because of their exceptional flavour and delicious aroma. Don't miss tasting them
A history dating back eons
Around since 7000 BC, pistachios are said to have originated from the Middle East and since then, have featured in many historical stories and legends.
Some of these include the former king of Babylon, Nebuchadnezzar II. According to the legend he had planted pistachio trees in his hanging gardens. Or the Queen of Sheba, who considered pistachios a treat for royalty, thereby forbidding commoners from growing the fruit for personal consumption. During Byzantine times, pistachios were a common feature at eateries, often served as an appetizer, paired with wine.
Cultivation of the best pistachios of the world in Aegina
History tells us that the cultivation of pistachios in Aegina began in 1896 when a farmer by the name of Nikolao Peroglou planted an assortment of nut trees on a piece of his land. Of all the trees, the pistachio flourished the best. Sharing cuttings with other Aegina residents, the crop eventually landed on mainland Greece. Today, Greece is the 6th largest producer of pistachios in the world, and first in Europe.
Protected Designation Origin
In 1996, the European Union has declared the pistachios of Aegina as a PDO (Protected Designation Origin) product. This speaks for their regional authenticity, and the traditional local methods used to produce them.
What makes Aegina's pistachios so popular?
The combination of Aegina's dry climate, temperature and chalky soil, as well as the wind coming off the Aegean Sea, create the perfect conditions for pollinating and cultivating pistachios. It is not uncommon to hear that Aegina has some of the best pistachios in the world. Harvesting generally happens from the middle of August to early September.
All these factors contribute to the uniquely sweet flavour of this nut. When not consumed on its own, Aegina's pistachios can accompany a variety of dishes, be it savoury (as a crust) or in a dessert.
There are a number of residents who cultivate pistachios on the island, and a select few artisan producers such as Eleni Kypraiou and Nikos Tzitzis, amongst others.
Annual pistachio (Fistiki) festival
This festival has been taking place every year since 2009 and takes place mid-September, just after the harvesting of the nuts is complete.
The festival draws hundreds of visitors from many countries across the globe, and includes a number of different culinary events, workshops, activities, concerts and more. There are also a hundreds of kiosks selling a variety of pistachio products.
When travelling to Aegina with Athens Day Cruise, make sure to indulge in everything pistachio. Savour the unique tastes, you won't regret it!