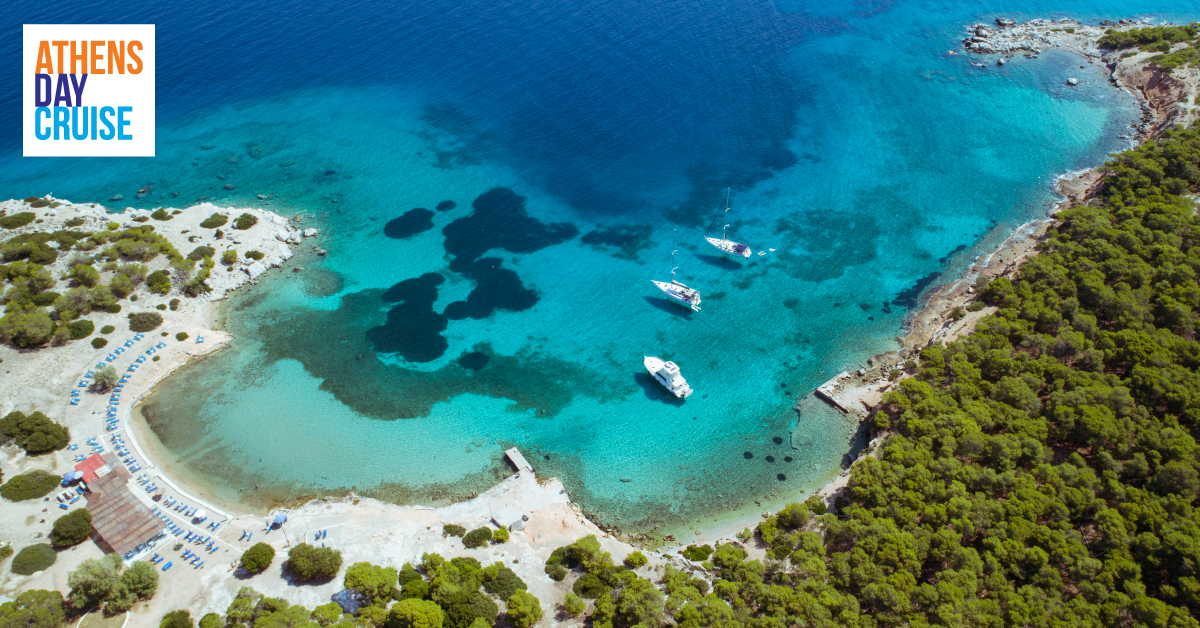 Destinations
There's a lot to do and see on Poros, not least of all the island's exquisite beaches characterised by sparkling clear waters and a surrounding nature that is as ravishingly beautiful.
Discover 8 of the most popular beaches with our list below:
Love Bay
One of the top Poros Beaches is Love Bay. Thise beach is located about 4 kilometres north-west of Poros town. It is probably one of the most popular and gorgeous  beaches on the island. Surrounded by pine trees, this little piece of heaven will win you over with its stunning azure waters, white sands and fine pebbles. Love Bay is great for all ages, making it a popular choice for families and couples alike.
Askeli Beach
Just a short bus ride away from Poros Town, Askeli beach is another gorgeous gem one needs to experience. Known for its long stretch of golden sand and beautiful pristine blue water. The panoramic natural landscape surrounding Askeli enriches the beauty of this beach location. Adding to its popularity are the number of fun activities available such as a range of water sports and even some beach volleyball.
Monastiri Beach
This beach is definitely one to visit, especially as a family, offering much to do by way of scuba diving and a choice of water sports. Located in a cove at the foot of Zoodohos Pigi Monastery (from which it got its name), this idyllic beach is perfect for relaxation. At Monastiri, you will quickly find yourself immersed in the tranquillity of the vibrantly green pine trees that overlook the vivid blue waters.
Vayionia Bay
Vayionia Bay is situated on Poros' northern coast. The beauty of the lush pine clad hills that surround Vayionia combined with its breathtakingly crystal clear waters make for a setting like no other. Here, avid divers have the exciting opportunity to explore the ruins of a sunken city. This quiet pebbled beach is known for its laid back vibe so a must for those looking for a place to unwind.
Mikro Neorio Beach
This popular beach is a definite go-to for those looking for some exciting water action. Aside from a variety of water sports, there is also a water ski school available.  Just a short distance from Poros town, Mikro Neorio is renowned for its natural beauty. Beautiful pine trees lining the beach, which eventually reach the sea. There are various restaurants located nearby making it easy to grab a quick meal.
Russian Bay
This picturesque cove is widely known as the best beach on Poros. Has interestingly also been declared a historical monument. It was here, in the early 19th century, where Russian ships docked while assisting Greece during their fight for independence. They were trying to gain freedom from Turkish rule.  Russian Bay is also protected from the wind, making for a peaceful swim in its scintillating waters.
Kanali Beach
Located opposite Askeli Beach, family friendly Kanali is a great small beach. You can relax on a sunbed and unwind for hours, taking in the gorgeous sea view. Moreover you can listen to the relaxing sound of the waves. The nearby beach bar can provide you with a variety of refreshments, so that you never have to leave this idyllic spot.
Panagitsa Beach
Last but not least of our top 8 Poros beaches is Panagitsa Beach. The enamouring beauty of this beach and the gorgeous nature is what keeps people coming back over and over again. If not swimming, take a walk to discover Panagitsa's natural splendour.