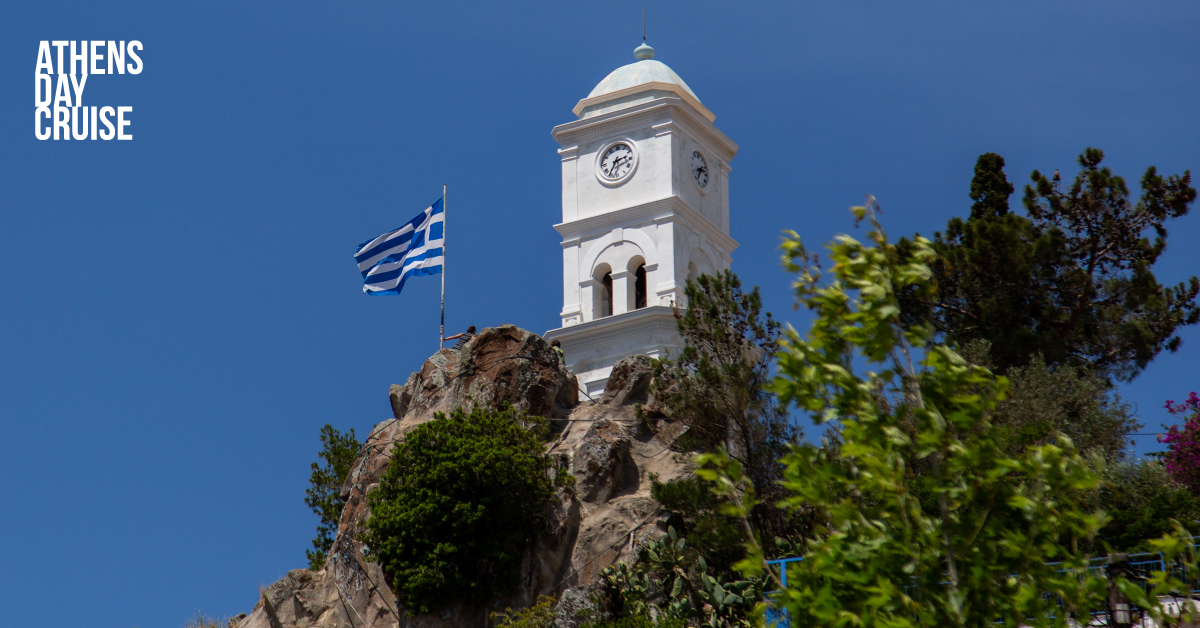 Cruise
Poros has a rich history with many interesting ancient sites to discover, above all the Saronic Islands. It also offers a beautiful, forested landscape and gorgeous sea views. This makes the island an appealing destination to experience. So where do you go in Poros to explore as much as you can of this wondrous place in just 60 minutes?
Here is a list of our top 5 favourite sites where you can either catch a glimpse into the islands past, or take in the beautiful nature of this Saronic gem.
1. Poros Clock Tower
The Clock Tower is the first thing you will see as you dock in Poros' harbor. This landmark structure is located on the highest part of the island. A walk to the top offers a spectacular view of the surrounding landscape and sea that's well worth witnessing. Definitely a photographer's dream.
2. Love Bay
Love Bay is one of the island's most gorgeous beaches located about 4 kilometres north-west of Poros town.  It's no surprise that Love Bay is incredibly popular among locals and travellers, be they families with children or couples. The nature that surrounds it is stunning, and the beaches white sands, small pebbles and crystal waters are absolutely breath-taking. One cannot help but falling in love with this picturesque setting.
3. Monastery of Zoodohos Pigi
Iakovos the Second found this holy monastery. He was an Athenian Archbishop, in the early 18th century. Having experienced what many say was a life-saving miracle in this region is what instigated the build of what was to become the monastery.  Zoodohos Pigi once served as a refuge for soldiers who fought in the Greek Liberation War in 1821. It is also where the first Ecclesiastical School was established in 1830.
4. The Temple of Poseidon
Poros is the setting of many mythological tales, such as that of Poseidon's son, Theseus. He was infamous for having killed the Minotaur of Crete and for whom the Temple of Poseidon was built. Built sometime in the 6th century, this temple once served as a centre where religious and civic matters of several ancient Greek cities were discussed.  Although very little remains of Poseidon's temple, some of the statues recovered from the site are at the Poros Archaeological Museum.
5. Archaeological Museum of Poros
For lovers of history, this museum is well worth visiting for the collections that is houses. From Mycenaean relics, geometric amphoras from Troezena, Roman artefacts, figurines, and finds from various excavations at the sanctuary of Aphrodite Akraia and the Temple of Poseidon, there is a lot to see and learn about.
While one hour may not be enough time to visit every single place on our list, it's certainly enough time to pick even one or two that best cater to your interests and explore them to the fullest.