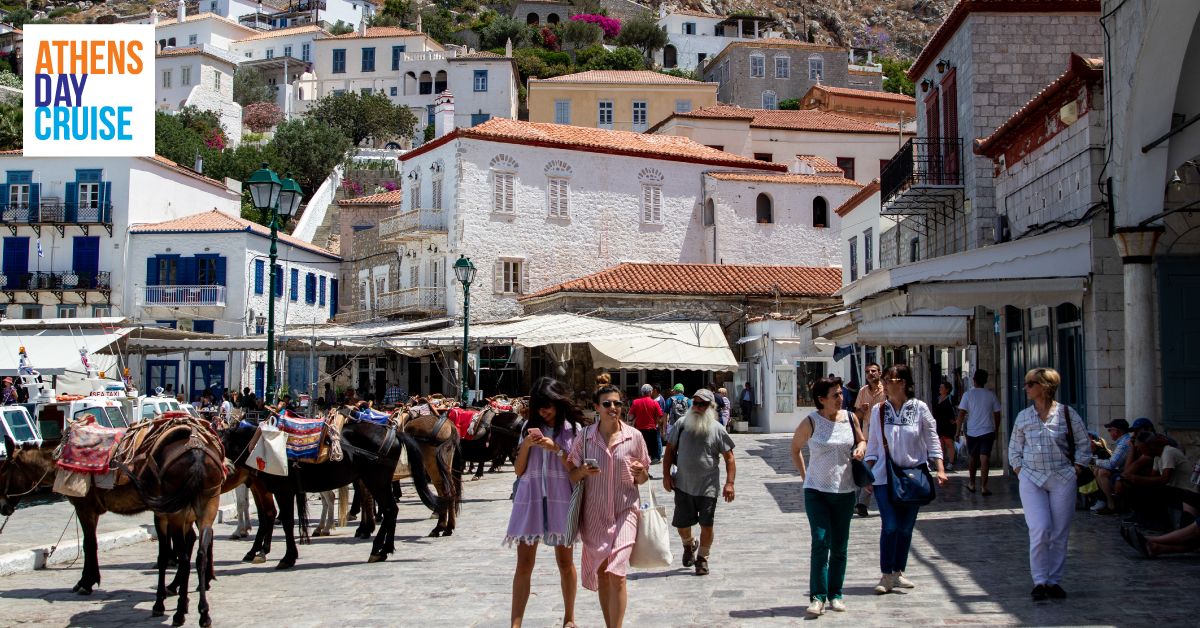 Destinations
What better way to experience something authentically Greek than a day on an island of the Saronic Gulf. Walk your way through Hydra, where donkeys are the main mode of transport (cars of any kind are forbidden) and where the pace is unabashedly unhurried.
This is Hydra, one of the most exquisite Saronic Gulf islands that has seen the likes of Leonard Cohen, Sophia Loren, the Rolling Stones and even Picasso fall prey to its quintessential charm.
All above, an alluring place characterised by cobbled lanes and winding alleys immersed in history and culture. Steep hills give way to breath-taking panoramic views of the Aegean. The hustle and bustle of city life slips away as timeless island living takes over.
Just a stone's throw away from Athens by boat, Hydra is the perfect destination for hiking enthusiasts or any traveller who enjoy seeing all there is to see on foot.
Kimisis Tis Theotokou Cathedral
Arriving at Hydra's port, head for the 17th century Kimisis Tis Theotokou Cathedral (also known as the Monastery of the Assumption of the Virgin Mary). It is located in a monastery complex on the harbour. Visit the Ecclesiastical museum under the clock tower and enjoy the exhibits of icons, jewellery, manuscripts, and other historical items.
Take a walk along the town's quiet white streets. Discover an architecture comprising 18th century mansions and cobblestone houses that are as gorgeous as the beauty that surrounds them.
Historical Archives and Museum of Hydra
Go to the Historical Archives and Museum of Hydra and discover archives rich with historical documents, volumes and materials. A plethora of exhibits displaying weapons and other ancient relics illustrate the rich history of the island dating back hundreds of years.
Kamini village
In addition, if you're up for a hike, take the coastal road to Kamini village, a definite must-see. West of Hydra harbour, Kamini is an idyllic fishing community where sailors have come to repair and store their boats for the last three hundred years. Don't forget to go see the church of John the Baptist. From Kamini, you can continue onwards through Vlihos to Palamida, and then to Episkopi, reportedly the site of a Byzantine village. Admire the gorgeous coastline and sea views along the way.
Beaches
A trip to Hydra isn't complete without visiting its spectacular beaches.  If quiet is what you're after, head to Vlychos Beach, a charming pebbled beach located about 2km west of Hydra town. For families and kids, picturesque Kaminia Beach is very popular. It is near Vlihos village, about 1km west of Hydra town. Similarly, within walking distance is the stunning Agios Nikolaos beach, a sheltered sandy beach located in a cove.
Other sights
Other unique sights to visit by foot in Hydra is Rafalia's Pharmacy. It is one of the oldest pharmacies in Greece which first opened its doors in 1890. It is renowned for its vintage beauty. Secondly, and most importantly, visit the monastery of the Prophet of Elias all the way up to the summit of Mount Eros. It is said to offer some of the most magnificent views of the Aegean and the island. In conclusion, the seven windmills on the hill of Agios Athanasios to see Hydra from an elevated perspective.
There are of course a myriad of other wonderful places to experience in Hydra. Many of them will enchant you enough to keep you wanting to come back for more. Just remember your walking shoes, bottled water and sunscreen!