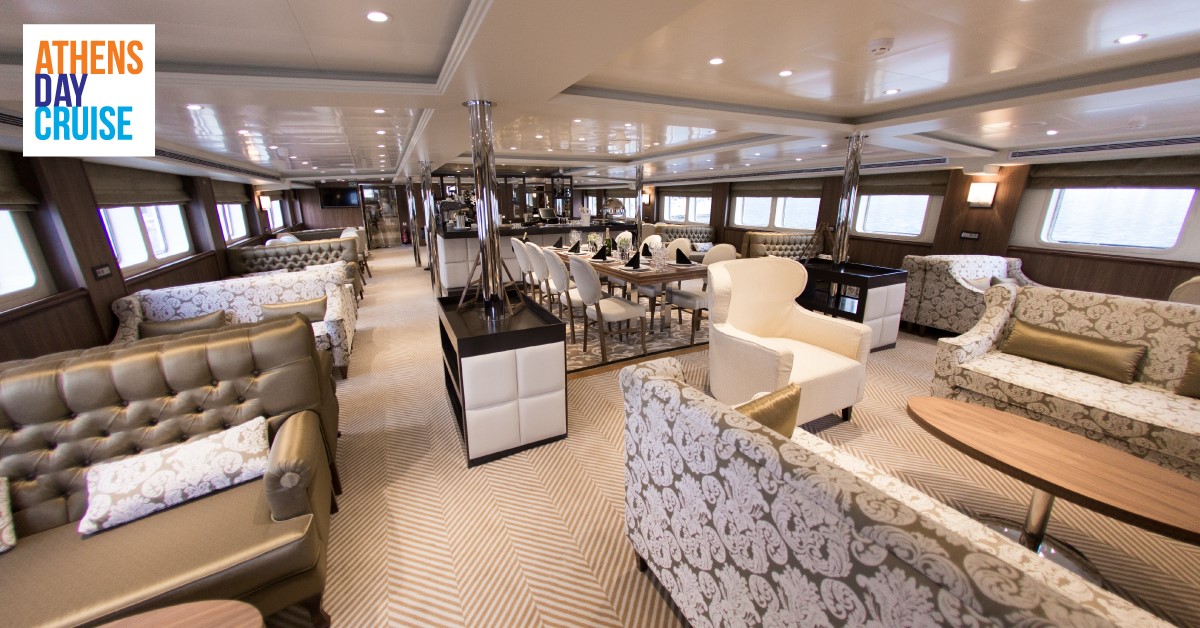 Cruise
Athens Day Cruise' luxury VIP cruise is the ultimate exclusive travel experience. Its island-hopping done in style, offering privacy, exceptional service and ultimate comfort that you would expect on a 5-star journey. Cruising the Saronic Gulf in luxury from Athens will take you to three spectacular Saronic island gems. Hydra, Poros and Aegina. The adventure begins aboard Cosmos, one of the fastest cruise yachts in the region. In other words, you will enjoy a new standard of relaxation and entertainment.

What can you expect?
As a VIP passenger, we provide you transfer to and from your hotel, and also priority embarkation. We welcome you aboard with a drink and a selection of delicious finger foods. After that, you can lounge on-deck with a glass of wine and enjoy the sounds and tranquil ambience of the Aegean Sea. Alternatively, you can also relax in our spacious executive VIP lounge, a contemporary space where attention to the minutest of detail has been considered.
A unique cabin experience
As a VIP passenger, take advantage of the VIP Executive Cabin Suite, an unprecedented first in cruise yachts. This cabin has been furnished for ultimate comfort, and can hold its own against any 5-star hotel accommodation. Lavish interiors and amenities make for a first class experience.
Exceptional gastronomy
As you sail from island to island, you will get to enjoy an exceptional lunch buffet comprising gourmet Mediterranean dishes partnered with carefully selected wines. An A la carte menu is also available from which you can order a meal of your choice.
Discovering the islands
The Saronic Gulf is an area of extraordinary beauty and Hydra, Poros and Aegina each offer something uniquely distinct for you to create unforgettable memories. You will have the opportunity to explore each island and become immersed in authentic Greek life. Firstly in Hydra, you can take our walking tour to discover incredible sights and learn about its incredible past. Similarly, in Aegina, we will take you to explore the Temple of Aphaia and St Nektarios. So, plan your Saronic Gulf island-hopping adventure and embark on a Athens Day Cruise VIP cruise for a holiday to remember!